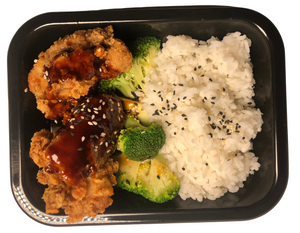 Karaage Fried Chicken (Box of 20)
Regular price $239.80 Sale

WHAT THE?! YOU CAN'T
FREEZE FRIED CHICKEN.. CHEF'S FAVE. YUM!
This is one of our personal Favourites.  We've had fun in the Kitchen to produce a dish we are really, really proud of.  Weather its an old favourite or you've never tried it. You're gonna love it...

Fried Chicken, waiting in your freezer, ready when you are.
Crispy Chicken,

teriyaki,

sticky rice,

broccoli,

spring onion & sesame seeds
LOVED BY FANS ❤️
Who are feeling like a Japanese Fried Chicken, Teriyaki, Yum Umami fix
Who know and love Karaage Fried Chicken and want it on-demand in their freezer (so good!)
Who are curious to see if the Fresh Chef's can pull-off freezing fried chicken?
OTHER DETAILS
Contains: Soy, Sesame Seeds, Milk

Protein: 37g

Fat 14g

Carbs: 76g

Sodium: 4195g
See the dish for more detailed dietary information.
Chef Note: What's Béchamel? A fancy Chef term for white sauce. Add cheese and it becomes Cheese Sauce.